Mediterranean Diet Scientific Background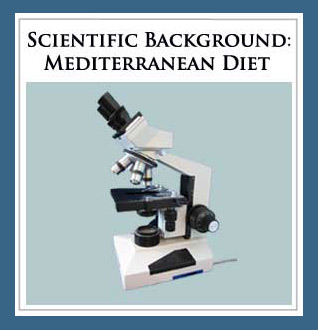 Scientific Background:

The Mediterranean diet is one of the healthiest and most well studied diets in the world.1-4 Populations following this diet have less heart disease with fewer heart attacks.
The Mediterranean diet is unique because it is the only comprehensive diet that has been found to result in a reduction in heart attacks and death by the gold standard of scientific studies- the randomized trial5,6.
The Seven Countries Study was the initial large population based study that included groups who followed the Mediterranean diet.1,7 This study, which began in the late 1950s, followed a total of 11,000 men in Europe, the United States, and Japan, for 15 years.
The groups that followed the Mediterranean diet in the Seven Countries study had a low rate of heart disease. 1,7 In particular, the people studied in Crete, who had a distinctive Mediterranean diet, had the lowest rate of heart disease, cancer, and death of any of the populations studied, including the Japanese groups1.
And more recent population studies have found that adherence to the Mediterranean diet is associated with a reduction in overall death rate, cardiac mortality, and death from cancer.2-4 Furthermore, in Crete, in the ensuing years, during the time interval when the diet of many individuals changed from the traditional Cretan Mediterranean diet, there was an increase in cardiac mortality.8
As with any epidemiologic study (population based), it is not possible to say if the diet was the cause of the lower rate of heart disease, cancer, and total mortality. In order to determine if health benefits are truly caused by a diet, a randomized clinical trial is necessary. Fortunately, this did occur.
The Lyon Diet Heart Study was a randomized trial performed to test the effects of a diet modeled after the Cretan Mediterranean diet5,6. This trial showed a statistically significant reduction in overall death rate and heart attacks in the group following the diet patterned after the Cretan Mediterranean diet. This study involved 605 patients who had recently had a heart attack. The Mediterranean diet group had a 60% reduction in death rate and a 70% reduction in heart attacks5. No other comprehensive diet has demonstrated a statistically significant difference in death and heart attack rate in a randomized trial. (Fish and fish omega-3 capsules have demonstrated this effect in a number of the randomized trials evaluating their use in cardiac patients.9-11)
The potential benefits of the Mediterranean diet in Alzheimer's, cardiac disease, cancer, and diabetes are reviewed separately on this web page and can be accessed by clicking on the appropriate icon on the top of this page.
—————————–
References
(See individual web entries for further references) test
1. Keys A, Menotti A, Karvonen MJ, et al. The diet and 15-year death rate in the Seven Countries Study. Am J Epidem 1986;124:903-915
2. Trichopoulou A, Costacou T, Bamia C, et al. Adherence to a Mediterranean Diet and Survival in a Greek Population. N Engl J Med 2003;348:2599-608.
3. Buckland G, González CA, Agudo A, et al. Adherence to the Mediterranean diet and risk of coronary heart disease in the Spanish EPIC Cohort Study. Am J Epidemiol. 2009;170:1518-29.
4. Fung TT, Rexrode KM, Mantzoros CS, Manson JE, Willett WC, Hu FB. Mediterranean diet and incidence of and mortality from coronary heart disease and stroke in women. Circulation. 2009;119:1093-100.
5. de Lorgeril M, Renaud S, Mamelle N, Salen P, Martin JL, Monjaud I, Guidollet J, Touboul P, Delaye J. Mediterranean alpha-linolenic acid-rich diet in secondary prevention of coronary heart disease. Lancet. 1994;343:1454-9.
6. Renaud S, de Lorgeril M, Delaye J, et al. Cretan Mediterranean diet for prevention of coronary heart disease. Am J Clin Nutr 1995;61(suppl):1360S-7S.
7. Keys A, editor. Coronary heart disease in seven countries. Circulation. 1970;41(4 Suppl):I1-211.
8. Kafatos A, Kouroumalis I, Vlachonikolis I, Theodorou C, Labadarios D. Coronary-heart-disease risk-factor status of the Cretan urban population in the 1980s. Am J Clin Nutr. 1991:54:591-8.
9. Burr ML, Fehily AM, Gilbert JF, et al. Effects of changes in fat, fish, and fibre intakes on death and myocardial reinfarction: diet and reinfarction trial (DART). Lancet 1989;ii:757-61.
10. GISSI-Prevenzione Investigators. Dietary supplementation with n-3 polyunsaturated fatty acids and vitamin E after myocardial infarction: results of the GISSI-Prevenzione trial. Lancet 1999;354:447-55.
11. GISSI-Prevenzione Investigators, Tavazzi L, Maggioni AP, Marchioli R, et al. Effect of n-3 polyunsaturated fatty acids in patients with chronic heart failure (the GISSI-HF trial): a randomised, double-blind, placebo-controlled trial. Lancet 2008;372:1223-1230.