Mediterranean Diet and Diabetes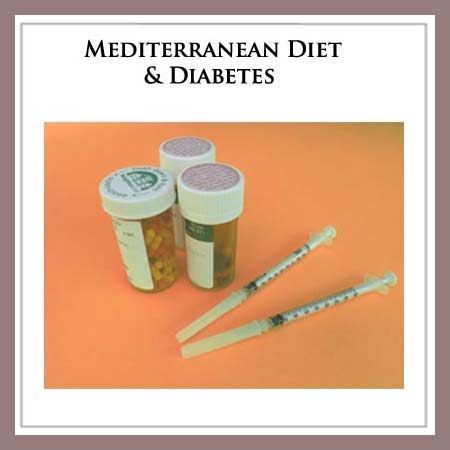 Mediterranean Diet and Diabetes

E.Roehm, M.D.
The Mediterranean diet is beneficial in the treatment of diabetes.  Olive oil, which is high in monounsaturated fats, improves insulin sensitivity.1,2,3  The Mediterranean diet has been show in randomized trials to improve glucose control in diabetics.4,5
In addition, following a Mediterranean diet can decrease the risk of developing diabetes.6,7  For those that develop diabetes, following a Mediterranean diet is associated with a reduction in mortality.8
And finally, in a single report, adherence to a Mediterranean diet was associated with a small reduction in the presence of erectile dysfunction (52% vs. 62%) in a population of diabetics, though this needs confirmation by other studies.9
Overall, the Mediterranean diet has beneficial effects on glucose control and is associated with a lower likelihood of developing diabetes and an increase in survival for those having diabetes.
===========
1. Lopez S, Bermudez B, Ortega A, et al. Effects of meals rich in either monounsaturated or saturated fat on lipid concentrations and on insulin secretion and action in subjects with high fasting triglyceride concentrations. Am J Clin Nutr 2011;93:494-9
2. Paniagua J, de la Sacristana A, Sánchez E, et al. A MUFA-rich diet improves posprandial glucose, lipid and GLP-1 responses in insulin-resistant subjects. J Am Coll Nutr. 2007;26:434-44.
3. Rocca A, LaGreca J, Kalitsky J, Brubaker P. Monounsaturated fatty acid diets improve glycemic tolerance through increased secretion of glucagon-like peptide-1. Endocrinology 2001;142:1148-55.
4. Itsiopoulos C, Brazionis L, Kaimakamis M, et al. Can the Mediterranean diet lower HbA1c in type 2 diabetes? Results from a randomized cross-over study. Nutr Metab Cardiovasc Dis. 2010 Jul 29. [Epub ahead of print]
5. Esposito K, Maiorino MI, Ceriello A, Giugliano D. Prevention and control of type 2 diabetes by Mediterranean diet: a systematic review. Diabetes Res Clin Pract. 2010;89:97-102.